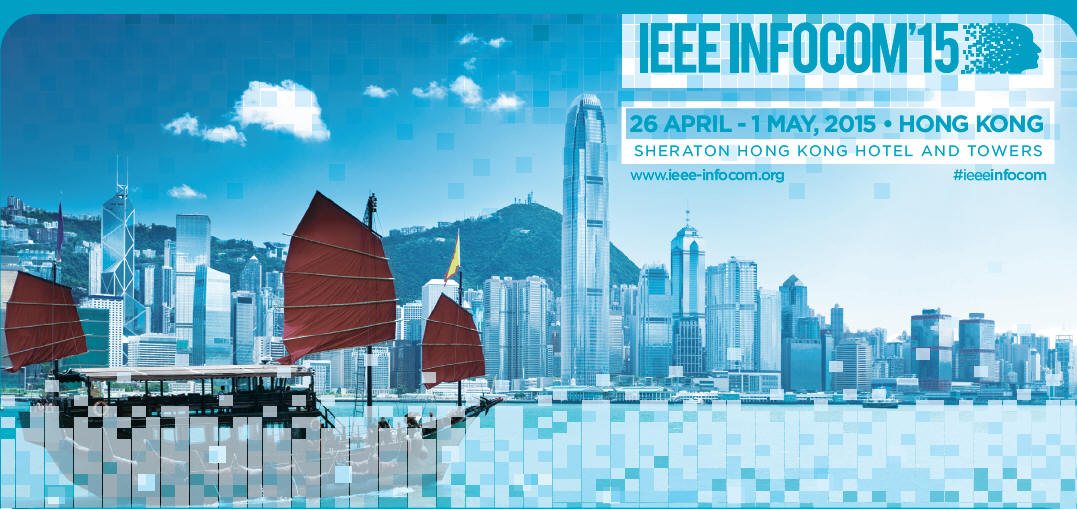 The International Workshop of Software-Defined Data Communications and Storage (SDDCS) 2015, in conjunction with IEEE INFOCOM 2015, on April 27, 2015
News:
April 28, 2015: (Summary) Our workshop has been successfully held and attracted more than 70 attendees. The attendees are very interested in our topics, and have at least 3 questions to each of keynote speech and the presented papers due to time limit. This is the good opportunity to bring together the networking and storage communities. We would like to thanks all authors and attendees. Look forward to meeting you next year!
April 5, 2015: The final program is ready.
Feb.15, 2015: The tentative program is online now.
Feb.5, 2015: The instruction for submitting camera-ready version is here.
Jan. 29, 2015: IEEE Fellow, Prof.Jian-nong Cao (Hong Kong Polytechnic University) will give the keynote in our workshop.
Jan. 22, 2015: The authors of accepted papers prepare the camera-ready version following the similar instructions in final version. Please submit the final 6-page version and copyright form before Feb.15, 2015.
Jan. 21, 2015: The authors of the half-day SDDCS workshop need to pay the Full Workshop Registration fee. More details can be found at Registration.
Jan. 20, 2015: We send the notification to authors. Thanks for our hardworking TPC. The program will be announced soon.
Jan. 18, 2015: SDDCS 2015 is scheduled in the afternoon, on April 27, 2015. Welcome to attend our workshop.
Final Program
Session: Opening and Keynote Speech
Room: Sung II
Time: 14:00-14:40
Session Chair: Yu Hua (Huazhong University of Science and Technology)
Keynote Speech: Data Transmission in SDN-based Vehicular Networks
Prof. Jian-nong Cao (Hong Kong Polytechnic University, IEEE Fellow)
Session 1: Bridge the gap between storage and network
Room: Sung II
Time: 14:40-15:30
Session Chair: Patrick P.C. Lee (The Chinese University of Hong Kong)
File System-Independent Block Device Support for Storage Class Memory
Yi Wang (Shenzhen University), Tianzheng Wang (University of Toronto), Zili Shao (The Hongkong Polytechnic University), Duo Liu (Chongqing University), Jingling Xue (University of New South Wales)
The Problems and Solutions of Network Update in SDN: A Survey
Songtao Wang, Dan Li, Shutao Xia (Tsinghua University)
Coffee Break Time: 15:30-16:00
Session 2: Exploit software-defined approaches
Room: Sung II
Time: 16:00-17:30
Session Chair: Cong Wang (City University of Hong Kong)
Design of a Load-Balancing Middlebox Based on SDN for Data Centers
Renlong Tu, Xin Wang, Jin Zhao (Fudan University), Yue Yang (Zhejiang University), Lei Shi (Waterford Institute of Technology), Tilman Wolf (University of Massachusetts)
Virtual machine placement for minimizing connection cost in data center networks
Takuro Fukunaga (National Institute of Informatics & JST), Shuichi Hirahara, Hiyori Yoshikawa (The University of Tokyo)
Gotta Tell You Switches Only Once: Toward Bandwidth-Efficient Flow Setup for SDN
Kai Bu (Zhejiang University)
Overview
The future infrastructures of data centers and cloud computing are becoming software defined. Although these infrastructures consist of both communications and storage resources, they are generally studied separately. Hence, applications and platforms have to precisely define the virtual environment in which they wish to run. The communication performance decreases due to overlook of the properties of storage devices while storage performance may also get impacted by communication system. The software-defined methodology offers an opportunity to bridge their gap and deliver high performance. The SDDCS workshop provides a multi-disciplinary forum for networks and systems research spanning data communications, networking, storage systems and devices, as well as applications.
SDDCS aims to bring together industry and academia to jointly explore recent progresses related to the potential performance bottleneck and the gap between communications and storage in the software-defined context. We particularly encourage contributions containing highly original ideas, new approaches, and/or groundbreaking results.
Topics:
Topics of interest in SDDCS include but are not limited to:
Software-defined communication protocols

Software-defined storage devices

Convergent design for communications and storage

Non-volatile storage support for network transmission

Storage deduplication for remote cloud backups

Data collection and analytics for system optimization

Dynamic workload redistribution and scheduling

Non-volatile devices in network switches

Cross-layer coordination

Storage virtualization in network end systems

Security for SDDCS schemes

Programmable interfaces for convergent design

User studies and experiences of real-world applications
Click here for PDF version.
Submission Instructions
Submitted papers must be no longer than 6 single-spaced 8.5" x 11" pages, including figures, tables, and references; two-column format, using 10-point type on 12-point (single-spaced) leading; and a text block 6.5" wide x 9" deep. Author names and affiliations should appear on the title page.
The submitted papers should present original theoretical and/or experimental research in any of the areas listed above that has not been previously published, accepted for publication, or is not currently under review by another conference or journal.
Submission Site: The papers must be submitted via the EDAS paper processing system.
Important Dates
Paper submission due: December 20, 2014
Notification to authors: January 20, 2015
Final paper files due: February 10, 2015 (extended to Feb 15, 2015)
Workshop Organizer
Steering Committee:
Qing Yang, University of Rhode Island
Hong Jiang, University of Nebraska-Lincoln
Peng-Jun Wan, Illinois Institute of Technology
Xue Liu, McGill University
Program Co-chair:
Yu Hua, Huazhong University of Science and Technology
Wenbo He, McGill University

Publication Chair:
Jia Rao, University of Colorado at Colorado Springs
Program Committee Member:
Feng Chen, Louisiana State University
Hanhua Chen, Huazhong University of Science and Technology
Yong Chen, Texas Tech University
Wei Dong, Zhejiang University
Deke Guo, National University of Defense Technology
Song Guo, The University of Aizu
Xubin He, Virginia Commonwealth University
Hao Howie Huang, The George Washington University
Patrick P.C. Lee, The Chinese University of Hong Kong
Dan Li, Tsinghua University
Jun Li, University of Oregon
Jiangchuan Liu, Simon Fraser University
Hongbo Jiang, Huazhong University of Science and Technology
Song Jiang, Wayne State University
Xiao Qin, Auburn University
Lei Rao, General Motors Research Lab
Kui Ren, University at Buffalo, State University of New York
Zili Shao, The Hong Kong Polytechnic University
Guangyu Sun, Peking University
Jun Wang, University of Central Florida
Bin Xiao, The Hong Kong Polytechnic University
Lisong Xu, University of Nebraska - Lincoln
Chun Jason Xue, City University of Hong Kong
Zhao Zhang, Iowa State University
Ming Zhao, Florida International University
Yanmin Zhu, Shanghai Jiaotong University